News from Lady of the Sea
---
Paul Curole, Vice President of Facilities, receives Chamber of Lafourche Employee of the Year 2023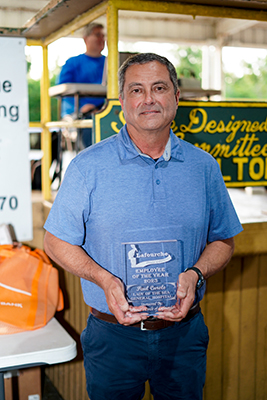 ---
Paul Curole came to work at Lady of the Sea in 2016 as the Director of Plant Operations. At that time, his job consisted of maintaining a 40 year old aging plant and facility, while keeping our buildings in compliance for the type of healthcare we provide. Previously, Paul had worked for over 25 years in construction and HVAC. He is a licensed electrician and studied HVAC, electrical, heating, air conditioning, sheet metal and advanced math.
The hospital main facility had catastrophic damage from Hurricane Ida that resulted in the closure of our main building where the majority of our services were provided to the community, and other buildings on our campus. Paul and his staff of 5 were working onsite for the storm, doing their best to address any issues and damage as it came up. Once the roof flew off of the hospital, as seen on the viral video that was part of every media cycle covering the storm, water began to rush through the building from top to bottom, and affected our entire hospital, including the electrical system. After an exhausting 24 hours, the storm had passed, and the hospital building was declared closed.
The real work for the Plant Operations department began at that moment. Employees returned to the building to try to salvage items, and with a three-story building, plant operations was on hand to help every single group salvage what they could. This went on for days. Whole departments relocated to other areas, and then relocated again and again through the next six months.
Staffing in all departments was reduced, and this included Plant Operations. Now down to 3 employees plus Paul, he was not only the leader for all of the damaged buildings and the new portable buildings, but also part of the grass-cutting team, pouring cement for safe walkways, and ensuring his staff had everything they needed each day.
Paul was also assigned to the team working with FEMA, insurance, and countless other entities involved in the demolition of some buildings and repairs of others. His background in construction became something that administration could rely on, as Paul was looped in for all projects.
Paul leads his team by example. He is a proven leader who is very conscious of fiscal responsibilities and is quality driven. He has been steadfast in his approach to all of the complications in the many projects that are now part of his job. Congratulations to Paul Curole for earning this well-deserved honor.
Pictured below are Lady of the Sea employees celebrating Paul's win at the Chamber of Lafourche Employee Appreciation Crawfish Boil and Healthcare Expo, held each year during Employee Appreciation week.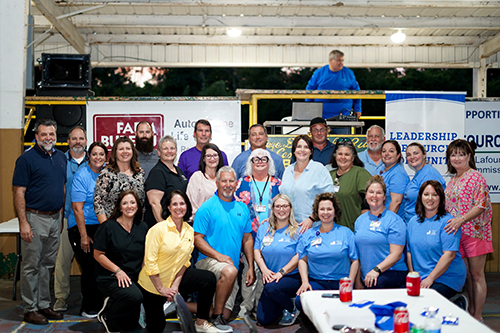 ---