Contact Us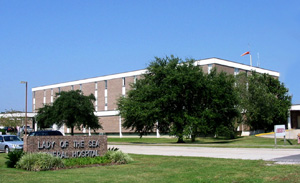 LADY OF THE SEA GENERAL HOSPITAL
200 West 134 Place
Cut Off, LA 70345

(985) 632-6401 main phone
kristinah@losgh.org


For emergencies, please dial 911
Lady of the Sea Medical Clinic - Cut Off
(985) 632-6233
Lady of the Sea Medical Clinic - Larose
(985) 798-7000
Lady of the Sea Home Health Agency
(985) 632-6900
Lady of the Sea Community Pharmacy #1 in Cut Off
(985) 325-9750
Lady of the Sea Community Pharmacy #2 inside Rouse's in Larose
(985) 693-9260
Business Office
(985) 632-6401
Lady of the Sea Outpatient Rehabilitative Therapy
(985) 632-7919
Marketing Department
(985) 632-6401
Clinic Patient Billing
(985) 632-8383
Hospital Patient Billing
(985) 632-8274
Outpatient Registration FAX
(985) 632-8513
---
Suicide Prevention Hotline - (800) 273-8255
The
National Suicide Prevention Lifeline
provides FREE and confidential support 24 hours a day for anyone experiencing distress or to help loved ones. This is a toll-free number, and services are available for deaf, hard of hearing, and en Español. Click the link above to view the website.
---
We are committed to excellence in patient care.
If you have any concerns about patient safety or quality of care, please call our main line and ask to speak to Administration at (985) 632-6401. Additionally, you may contact the Louisiana State Department of Health and Hospitals Hotline at 225-342-0138 or Det Norske Veritas Healthcare (DNV), the hospital's accrediting agency, at 866-496-9647.

Para leer está informacion en español oprima aqui.
Español: Para obtener asistencia, llame (985) 632-8285.