About Lady of the Sea
---
Our Mission Statement:
We exist to provide high quality health care in a personalized manner to those we serve.
Our Vision:
With the support of the community, Lady of the Sea General Hospital will become the primary provider of wellness, education, and health services.
Our Values:
PEOPLE - Our people are the source of our strength and our customers are the focus of our mission.

EXCELLENCE - We will achieve excellence through collaboration, performance improvement, customer satisfaction and education.

INTEGRITY - We conduct our work with honesty and fairness and meet the highest ethical and professional standards.

LEADERSHIP - We are encouraged to reach our full potential in job skills, problem solving, leadership, and personal achievement as a catalyst for growth and development.

COMMITMENT - We are committed to a culture that produces appropriate, competent, responsive, and effective care and services to the highest quality.

CUSTOMER SATISFACTION - We are dedicated to providing care and services which are delivered with respect, compassion, and dignity to patients, staff, and visitors.

PERFORMANCE IMPROVEMENT - We are continually improving quality of service and performance to become the primary provider of wellness, education, and healthcare services for the community.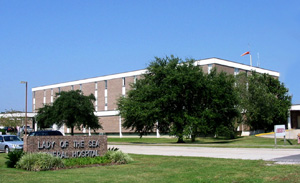 Click here to view Lady of the Sea General Hospital Administration.