DAISY Award for Extraordinary Nurses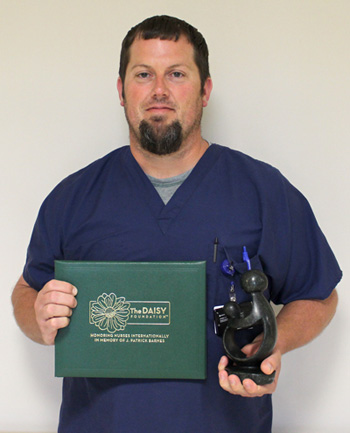 Lady of the Sea is proud to announce Brandon Barrilleaux, RN, BSN from the Medical-Surgical unit, as the recipient of the DAISY Award for Extraordinary Nurses for 2019.
The DAISY Award recognizes the extraordinary care and compassion provided by nurses. His nomination states:
"I would like to recognize Brandon Barrilleaux for the Daisy Award. During my recent hospital visit, I was fortunate to be cared for by Brandon as my night nurse. The leadership he instills to the second floor set the highest standard to all around him. Brandon leads by his extraordinary work ethic. The respect and appreciation he gives to the entire staff is admirable. At each turn he says thank you and lets his coworkers know he appreciated their assistance with his patient. The respect and admiration toward Brandon by his coworkers is refreshing. The second floor night shift is filled with polite and kind people who care for their patients with respect. This is a reflection of true leadership. Brandon helps everyone around him without question no matter the task, situation, or list of duties he has on his schedule. There is no task too large or too small. Within my entire hospital visit, not once was a request for assistance not completed immediately, and always with a smile. Many tasks were definable not within his job description, yet his goal was to care for all the needs of his patient. During my hospital visit, Brandon assisted with changing bedding, measuring urine, bringing blankets and pillows, filling ice and water pitchers, bringing heating pads and assisting family to help change hospital gowns along with all his procedure medication needs for his patient. The respect and dignity Brandon gives to his patients and their families is inspiring. Brandon is the definition of what a nurse strives to be. He cares not only for his patient and kindness and compassion but also cares for their family members as well. My daughter did not want to leave me in the hospital. She stayed and helped me take care of me during my illness. Brandon would always ask if she needed anything. Each patient is different and Brandon is remarkable at taking time to get to know his patients by giving 110% of himself. I was not blessed with an abundance of good veins which for this reason the process of lab work or administering an IV is not a pleasant experience. Brandon took the time to check on me with my IV reassuring me everything was going to be okay. He would always notify me of upcoming lab work, and check in on me after the procedure was complete, and let us know that he was here if I or my daughter needed anything. I am blessed to have my daughter who takes care of me. Sadly this is not the case for everyone within our community. What a blessing to know that Brandon is there to show everyone they are not alone, and someone is there to care for them. The attention to detail he gives to everyone is remarkable. Brandon explains each procedure, medication, and testing with his patient which is ordered by their physician. If he asked a question regarding specific medication he is not familiar with researches it and returns promptly with an explanation. The time and sincerity he gives patients and their families are heartwarming. I have difficulty sleeping and Brandon was so quiet, never wanting to add extra lighting, and encouraging me to try to rest. He had 101 things to do, yet his patients would never know that because he cares for each patient with the utmost patience. Brandon does not only care for his patients with medication and procedures, he gives them the compassion and kindness that everyone deserves. The humor he shares with his patients allows them to if only for a moment to laugh and smile without focusing on how bad they feel. Upon my discharge, Brandon took time to let me know if myself or my family needed anything to not hesitate to ask, and assured us that if ever I required assistance with my IV, he would be there to assist. He understood the struggle I am faced with, and allowed me to know that someone was there to help. Brandon Barrilleaux was born to be a nurse. He was given a blessing from God to care for others in the outstanding way he does on a daily basis. He brings his hometown pride to our hospital, and cares for everyone as family. Brandon is an inspiration and blessing to our hospital and community. If everyone could take a page from Brandon's book of kindness, the world would be better for it. Brandon, thank you for caring for me and my family while I was a patient at Lady of the Sea Hospital. The remarkable care you gave allowed me to feel better. God Bless You."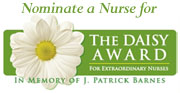 Please continue to submit nominations by downloading and returning this form in the DAISY Box located at the front lobby reception area or mailbox area. There are also blank nomination forms in the lobby area. You may submit nominations as often as you like, since this is an ongoing recognition program. Certificates may be given out monthly and awards will be given out annually. If you have any questions, please contact Holly Griffin, CNO at (985) 325-9407.
Read more about the DAISY Foundation and award on the official website here.