Outpatient Rehabilitative Therapy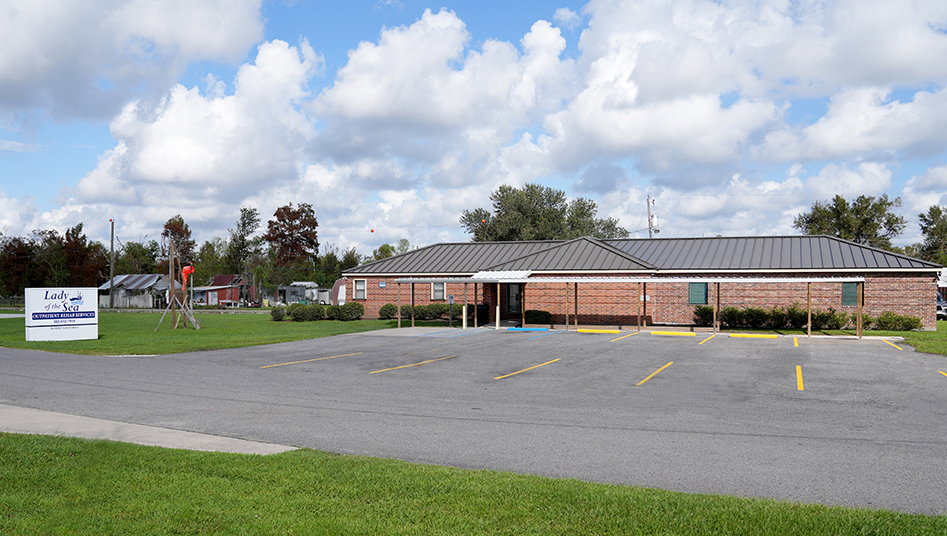 Speech-Language Pathologists, Physical Therapists, and Occupational Therapists are available to you Monday through Friday. Located by Lady of the Sea General Hospital. If you think you could benefit from any of our therapy services, ask your doctor or call us and talk to one of our therapists.
(985) 632-7919
104 West 134th Street, Cut Off, LA 70345
---
PHYSICAL THERAPY -
Evaluation, Treatment, and Ongoing Assessment for Adults may include:
Lower Extremity Musculoskeletal injuries
Gait and Balance training
Neurological conditions
General strengthening programs
Modified cardiac rehab and COPD program
Treatment of Spine
Manual Therapy
Wheelchair Evaluations
Return to Work/Functional Capacity Evaluations (FCE)
Astym treatment
Sports related injury
Pelvic Floor dysfunction
---
OCCUPATIONAL THERAPY -
Evaluation, Treatment, and Ongoing Assessment for Adults and Children may include:
Upper Extremity Musculoskeletal injuries
Neurological conditions
Hand Therapy
Activities of Daily Living (ADL'S)
Splinting
Adaptive Equipment recommendations
Pediatrics
---
SPEECH THERAPY -
Evaluation, Treatment, and Ongoing Assessment for Adults and Children may include:
Speech and Language disorders
Swallowing disorders
Voice and fluency disorders
Hearing disorders
Autism
Apraxia
Diaphragmatic breathing exercises
Cognition and Memory deficits
---
Specialty Programs -
Astym®(A-stim) – Treatment sets of the standard soft tissue therapy by regeneration of healthy soft tissue(muscles, tendons, etc,), and removes unwanted scar tissue that may cause pain or movement restrictions with the use of specialized instruments.
Lymphedema Treatment - To reduce edema with the use of Manual Lymphatic Drainage, Bandaging and Compression, Skin care and Hygiene, Exercise and Self-Massage.
Vital Stimulation - Uses neuromuscular electrical stimulation to muscles involved in swallowing to facilitate strengthening for safe swallowing.
Vestibular Rehabilitation - Focuses on treating patients with Benign Paroxysmal Vertigo (BPPV).
Pelvic Floor Dysfunction - Male and female treatment of urinary incontinence, pelvic pain, pregnancy and postpartum musculoskeletal conditions.
---
Inpatient Rehabilitation Services -
Med Surgery Acute Rehabilitation - Provides a variety of therapy services to patients during their stay in the hospital.
ICU - Early range of motion and strengthening exercises for bedbound, ventilator dependent patients
Skilled Swing Bed - Services for patients in need of short-term rehabilitation therapies following a hospital stay after an illness or surgery. Multidisciplinary approach with focus on return home at the same physical level as prior to hospital stay. More aggressive PT, OT, and ST intervention. Small gym for exercises.
Home Health Therapy - For homebound patients following hospital stay to restore highest level of function within own home